Breakfast at Home, Part 1
Yesterday, after led class, we had breakfast at my place. A few friends came over and we prepared an excellent breakfast of chai, fruits, bread, scones, kesari-bath (sweet seminola), and indian sweets.
Here is how we did it:
1) The Chai
Chai is spiced indian milk tea-I love it, but since doing
a fast last August, I have not had any caffeine. Luckily, there is a good substitute for black tea. Rooibos tea, also known as bush tea, comes from a tree grown in South Africa, and has a strong flavor, but no caffeine, and is supposed to be good for digestion and to have a relaxing effect. My friend Michiel tells me that "rooibos" means "red bush" in Dutch. This tea has become popular recently thanks to the very charming "No. 1 Ladies Detective Agency" books by Alexander McCall Smith, a series of detective stories set in Botswana. So we used Rooibos tea to make our chai.
First, boil some water and prepare the spices: cardamon, cloves, cinnamon, black pepper, and ginger.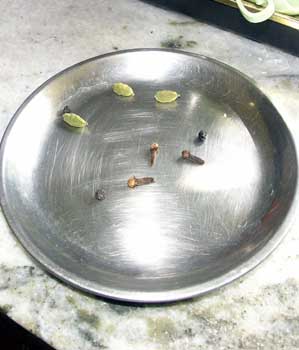 I usually open the cardamon, crush the cloves, cinnamon and black pepper, and finely chop or grind the ginger, and add them to the boiling water.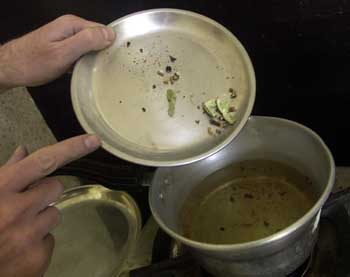 While I was working on the spices, Yasuko was busy preparing the ginger: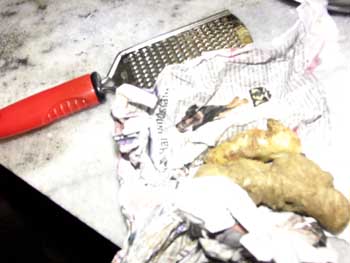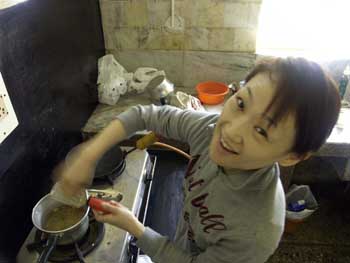 When all the spcies have been added, it smells very good!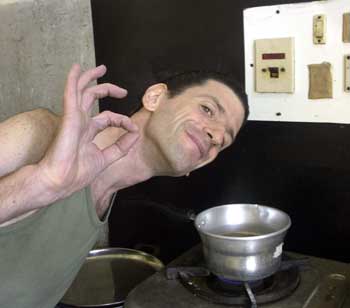 Then add the tea, or rooibos tea, and allow to boil for about 10 minutes.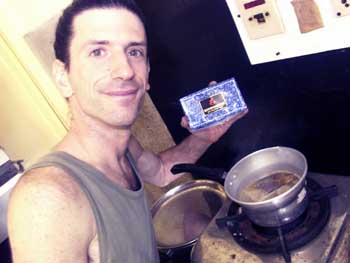 Then add milk, I usually try to use equal amounts of milk and water. i usually add some sugar at this point.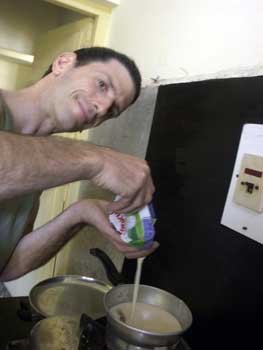 Allow this to boil for about 10 more minutes, and you have some excellent chai! Adding some more sugar helps to bring out the flavor of the spices, especially the ginger. Enjoy!
(Thanks to Mamiko Aida, who first showed me how to make chai, Alice Caldwell, for introducing me to the No. 1 Ladies Detective Agency series, Natsuko, for introducing me to rooibos tea, and to Yasuko and Ayuco, who helped to prepare the breakfast!)