OK, I'm having some trouble with my lack of blogging skills; every time I try to add a new entry, all the old entries get deleted. If you're still reading this, please bear with me, I hope to solve this problem somtime soon!
Below is a copy of my first entries, which were deleted by mistake.
Day 1-Sunday, Nov. 6, 2005
HI Everyone;
I'm now safely in Mysore and having a great time! This is my first ever try to write a blog, so sorry if it takes me a while to get the hang of it. I'll write all my entries in English, but of course feel free to write responses or comments in Japanese!
My first day was long, but lots of fun. My flight landed in Bangalore on Saturday, at 10:15 pm, and after a very long wait for my bag, I left the airport at 12:30, and reached the Green Hotel in Mysore at 3:45 am, put my bags down, freshend up a little, and then it was off to the shala for the 5:00 am led class. Guruji was in fine spirits, smiling a lot, and practice felt good, but after all that sitting in an airplane, the balance poses were wobbly. After practice, while enjoying cocounut milk in front of the shala, I caught up with many friends including Mae, Natalia, Ayuko, Kumi, Juha Javainen and many others, and also met Yasuko from Nagasaki, Maki from Niigata, and Sayuri from Tokyo. Practice was followed by an excellent breakfast of pancakes, upma, parathas, toast, pineapple juice and french toast at the Green Hotel, and then we headed downtown to buy sandals, food and other supplies.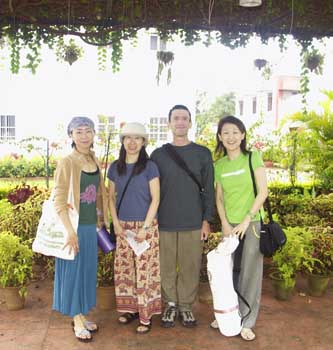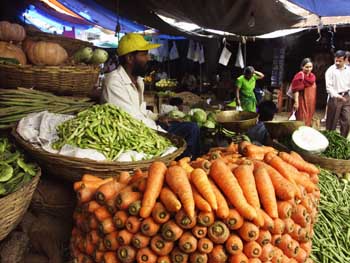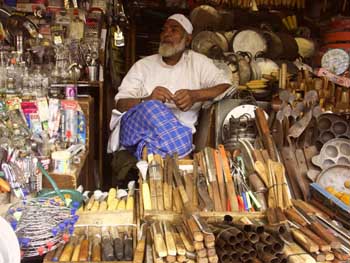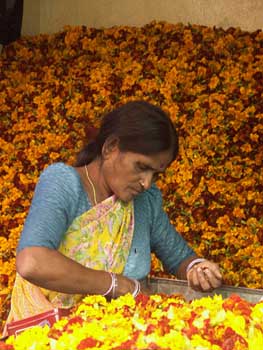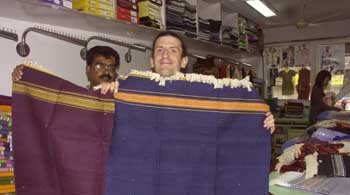 There was a conference at 4:30 pm, and Guruji talked about the 8 branches of Yoga and explained that asana practice is the starting point and gateway to the other branches.
After conference, Ayuko, Maki and Yasuko and I had light dinner at Green Leaf, and headed out to Mysore Palace and got there just in time to see the illumination display. We capped off the evening with some traditional Inidan sweets, and a long talk about yoga and backbends... it was a wonderful day and a perfect way to start my stay in Mysore.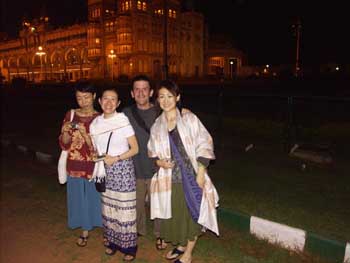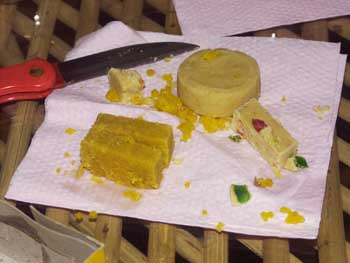 Day 2-Monday, Nov. 7
Today was my first Mysore style practice, and it felt good. I'll be doing primary series only for the first week. There are probably 100 or so people practicing now; the shala is full, but not too crowded, and the waits aren't too long. Guruji, Sharath and Saraswati were all smiling a lot and giving lots of ajustments.
Mae took several of us to the Gokul Chats for an excellent breaskfast, and the Dosa filled with Kesari Bath were excellent. Did some more shopping and caught up on e-mail in the afternoon, and after dinner, Ayuko, Yasuko, Maki and I shared some lemon ginger tea and chatted about Yoga.
Day 3-Tuesday, Nov. 8
One thing that really strikes me here is how intense everything is. The smells of food, spices or garbage, the explosion of colors one sees in the local markets, the differences between the rich and poor, friendly or rude behaviour, all seem much more intense than the relatively subtle variations I have grown used to in Tokyo. This can make a stay in Mysore much more interesting, but also can be a little overwhelming at first. This is not my first visit to Mysore, but it is still taking a while to get used to!
Day 5-Thursday, Nov. 10
After chanting this morning, Sharath announced that the shala would be closed on Sunday and Monday, because Gurji was traveling to Mangalore to receive a government award, and Tuesday is a moon day. Since the shala is usually closed on Saturdays as well, this leaves 4 days in a row without practice at the shala. I'm debating whether to hop on a plane an go to Kovalam Beach, for some self practice near the ocean followed by an intense oil massage, or head up to Bandipur national park to see some jungle and wildlife, or just stay in Mysore and do morning practice with my friends.