Kovalam Beach Part 5-Last Days and Return to Mysore
One morning on my way to Suprabatham restaurant this wall, beautifully painted and decorated with "Om" symbols, caught my attention.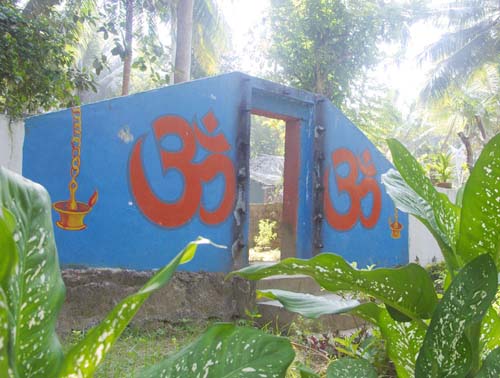 Approaching the small entrance revealed a small temple inside. The black areas on the walls are caused by oil lamps burned on special occasions.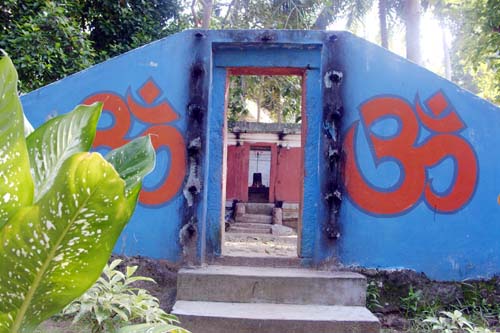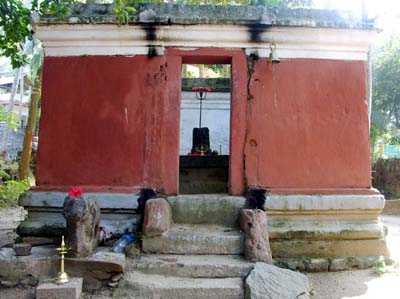 A careful inspection of the outer wall uncovered clues indicating that this was a Shiva Parvati temple that was 600 years old.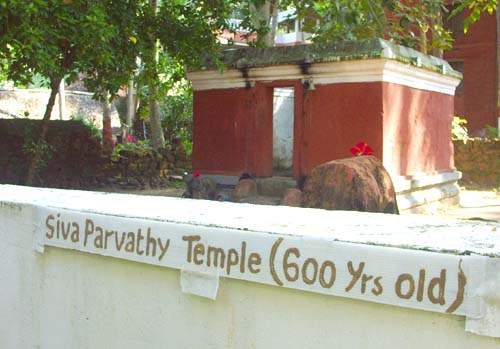 The inner temple was a simple structure with 4 walls and no ceiling; but it was well proportioned.
Here is the inside: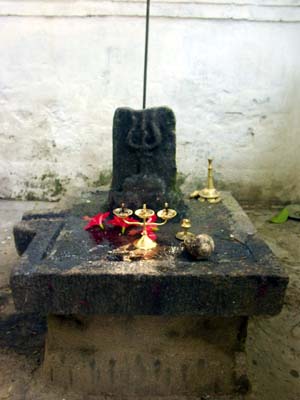 The day to return to Mysore came sooner than we wanted. We had such an enjoyable time in Kovalam Beach that 3 out of 5 people in our group decided to extend their stays; MIkko S. and Rebecca stayed 2 more days and returned to Mysore by bus; Mikko V. stayed several extra days, and from there continued to travel in south India without returning to Mysore. Only Antonia and I returned by car as originally planned.
On my last morning, the waves in the ocean were quite large, probably because it was the day after Moon Day. I decided to go for a quick swim, but some of the waves where scary. Here is a photo of me taken by Antonia.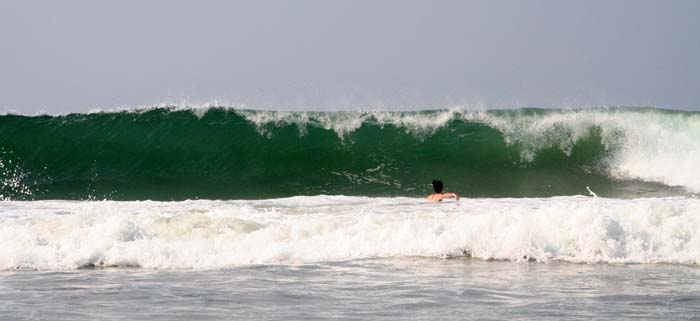 On my way back to the hotel, a shop owner was performing a puja by burning incense in a half coconut. It's good to see shop owners taking a few minutes from work to remind themselves and the rest of us of the more spiritual and traditional side of life!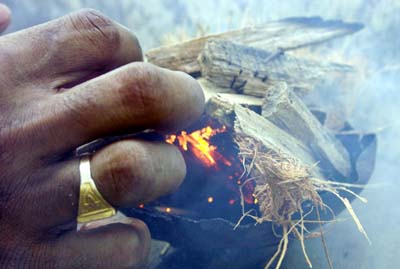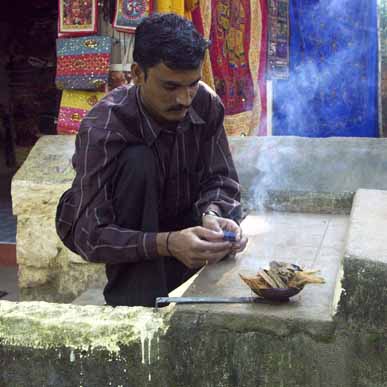 On our last morning, Antonia, MIkko S., and I met for breakfast at the Swiss Cafe, and enjoyed good food, a view of the ocean, and good drinks: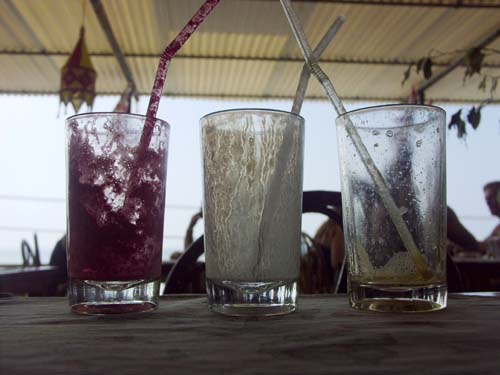 Antonia and I would not be seeing Mikko V. again, so this was our farewell.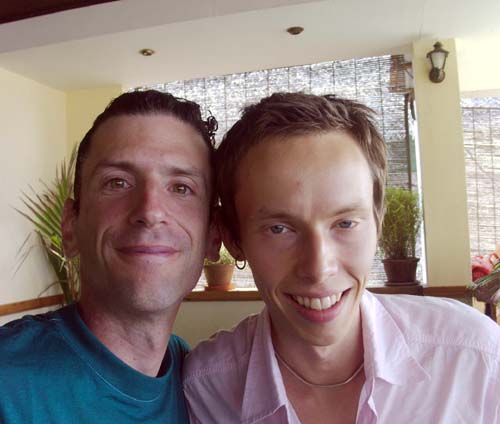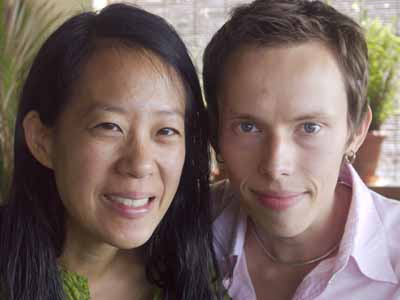 This was also my last chance to enjoy the excellent chocolate cake at the Swiss Cafe; another farewell!
After breakfast, it was back to Mysore. On the ride back only 2 of us shared the large Tata Sumo, we were quite comfortable. Our always friendly helpful driver Chendru had decorated the dashboard with fresh flowers.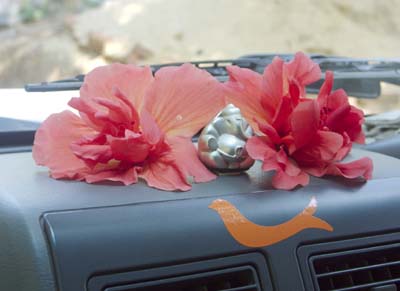 The 16 hour drive dragged on, but there were a few interesting moments. Antonia noticed a new sticker on the car's dashboard, which showed Ganesh, a mosque and Jesus Christ.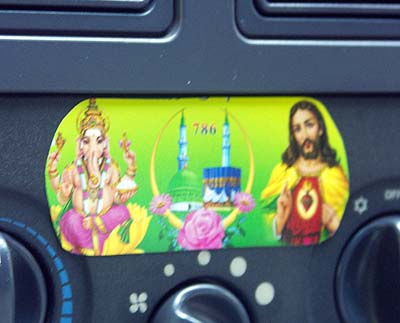 Antonia started a conversation with Chendru, during which he explained to us that he is a devout converted Christian from a Hindu family, and his conversion was inspired by the healing of an illness (I won't go into too much detail about his story on my blog).
About an hour into our trip, we were stopped by an unusual parade.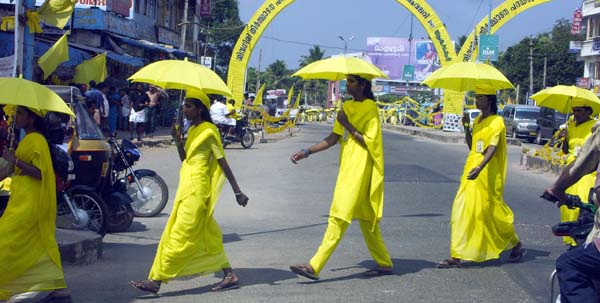 Nearly all the marchers, men and women, were dressed completely in yellow, and the women were also carrying yellow umbrellas. Chendru explained that they were a religious group, and we soon got to see a photo of their leader.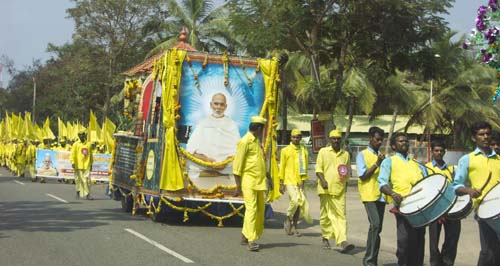 Some were wearing outfits so extravagant that they would have attracted attention even in Harajuku: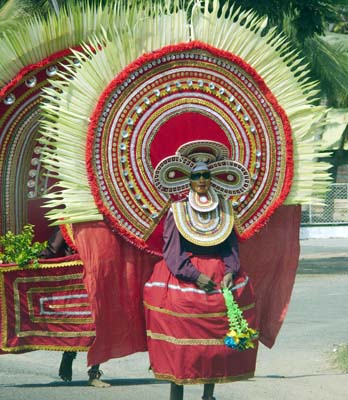 We didn't learn much about this religion or their leader/swami, but it was clear that he had a large following: we saw groups of people outfitted in yellow over the next several hours as we drove through Kerala state.
We stopped for breakfast, and Chendru ordered some payasam for me. I like payasam, it is a sweet noodle soup often eaten for breakfast. But I got a big surprise... this payasam was SPICY! It took me a while to recover!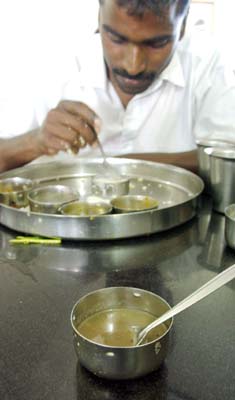 There were some good scenic spots, and we stopped for a photo at this tree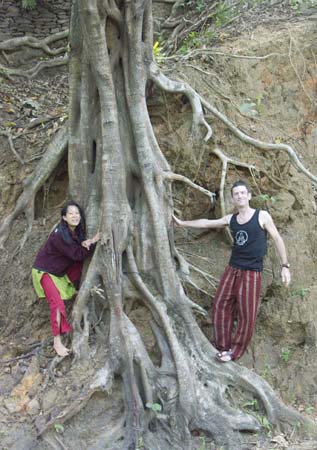 It was a long ride and we were glad to be back in Mysore, but the visit to Kerala was well worth the long trip!