Kovalam Beach Part 4 - More Traditions
This entry is a collection of random thoughts and only has 3 photos. More photos coming in the next entry!
Kovalam Beach is more traditional and relaxed than Mysore. Men usually wear pants in Mysore, but in Kerala, and especially in Kovalam Beach, loonghi are more common. This is a piece of cloth about the size of a small bathtowel wrapped around the waist like a skirt. To make it easier to walk, the bottom part of the loonghi is usually pulled up and tucked into the waist, folding it in half.
Here the hotel owner is showing me how to correctly wear my new purple loonghi folded to half length.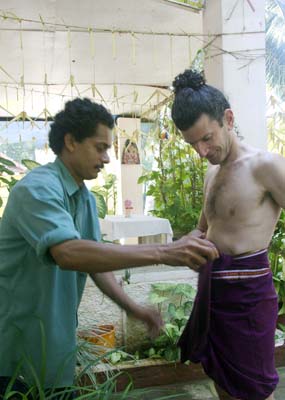 There are many good reasons to visit Kovalam Beach, the ocean, the food and Lino's workshop. Another good reason is traditional ayurvedic massage. There are many ayurvedic clinics and ayurvedic massage centers in the area. I have only one clinic, and I'll tell you about it below.
Kerala style foot massage is wonderful. If you have a chance, you should definitely try it. No, it is not only a massage of your feet. Here in Kerala, foot massage means that the masseur uses his or her feet to massage your whole body.
Here is what it looks like: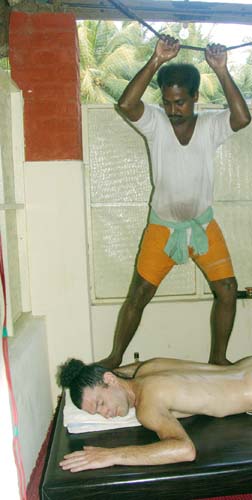 (Incidentally, since we are talking about loonghis, the orange shorts worn by the masseur, VIjay's former assistant, are not really shorts. It is a loonghi wrapped around the thighs and tied down with a sash around the waist. This provides a good fit, and good motion of the legs.)
The masseur stands on the table and holds a rope hung overhead for balance. He applies a lot of oil, and goes over your whole body with his feet. He can easily go from your head to your toes in one continuous stroke; this makes the massage feel very smooth.
I was lucky enough to first have a massage from Mr. Vijay in the Moonlight Hotel 2 years ago. I would not hesitate to say that he gives some of the best massages I have experienced. His massages are powerful, deep and strong; through his years of practice he has developed amazing sensitivity and agility in his feet, rivaling many people's hands! Those who prefer soft or superficial massage may find massages too strong! Here is a photo from 2 years ago.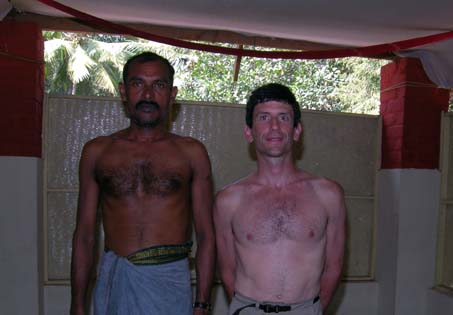 Mr. Vijay told me that he comes from a very old family of Ayurvedic doctors with a lineage going back about 1200 years, and he is 61st generation. To someone born in America, such continuity is hard to imagine. He told me that traditionally, the head of the family did not marry because there were too many responsibilities, including running the family clinic and teaching younger generations, so the eldest nephew was taught the family's ayurvedic art, including foot massage. Vijay's grandfather changed this tradition (perhaps he did not have any nephews); he married and passed the art on to his eldest son, who was Vijay's father and teacher.
Vijay recently moved to a new clinic in the nearby city of Trivandrum, and he is so busy that I was not able to get an appointment this time. Instead, I got a massage from Vijay's former assistant at Vijay's old clinic at the Moonlight Hotel; he gave me a good massage, but he has still not fully developed the smoothness, precision and sensitivity that Vijay has acquired with long years of practice.