Kovalam Beach, Kerala, Part 2
On the way to Kovalam we saw that there are more christians in Kerala than around Mysore. Many houses, and even businesses such as banks, stores and hospitals, were decorated for Christmas. Many of the hotels here in Kovalam Beach also had christmas decorations, but maybe this is because of western tourism.
The most common form of decoration is colorful paper stars illuminated from inside; these look very pretty at night: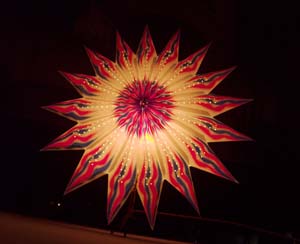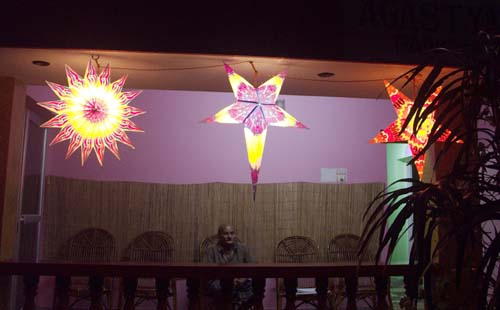 The hotel next to ours also had Chirstmas lights, and several hotels and restaurants also had nativity scenes.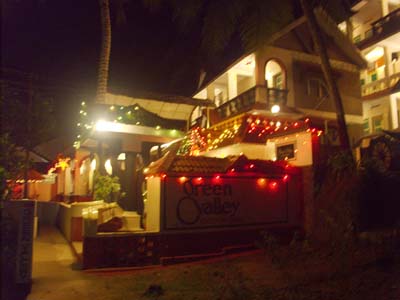 Our hotel is the "Silent Valley" hotel, a little far from the beach, but very quiet and the the owners are very friendly. The rooms are small, but mosquito-free and comfortable, the beach and the yoga shala are only a short walk away, so I'm happy here. My room is on the top left.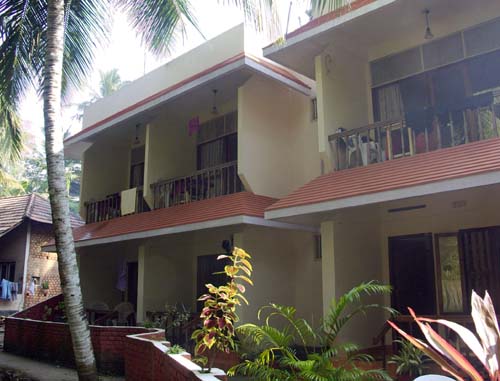 There are two very distinct areas here; one is the beachside, there is a good beach for swimming, but especially at high tide, the waves can be big and the undercurrents can be strong.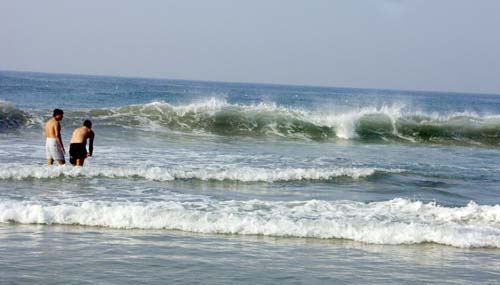 The beach front is lined with larger hotels, shops and restaurants aimed mainly at western tourists.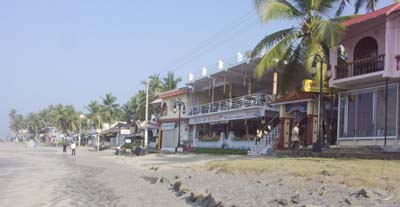 Just walk a little inland from the beach, and the scene changes; there are many small paths winding through dense vegetation.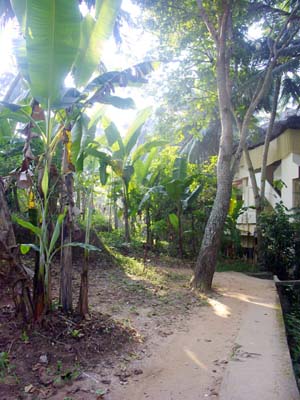 Here, the hotels, restaurants and shops are smaller; several of these restaurants and shops cater mainly to locals, and have much lower prices. Unfortunately, with the increase in tourism, these shops are slowly being replaced by more fancy expensive places that westerners like.
Many of the paths are also lined with tailor shops that make good and very cheap clothes to order; I had a shirt made for 200 rupees (about 500 yen). The shops are often very colorful.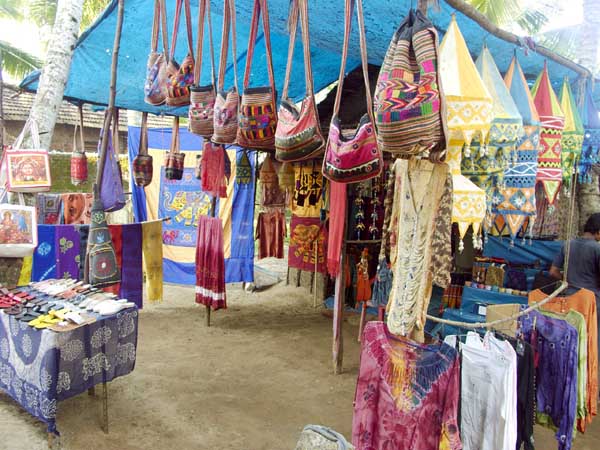 One shop was owned by a Tibetan, Mr. Dawa, who claims to have the best selection of CD's in Kovalam. Mikko and I bought some from him.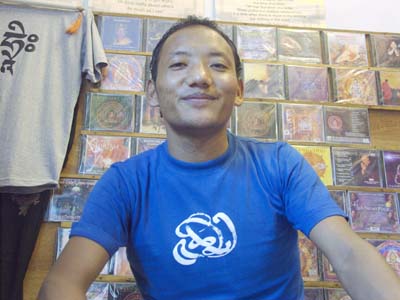 Mikko and I sometime had breakfast at a restaurant which attracts mainly local customers. This man cooks parathas, indian bread fried on a skillet with oil. In the background, his wife works on the sambar.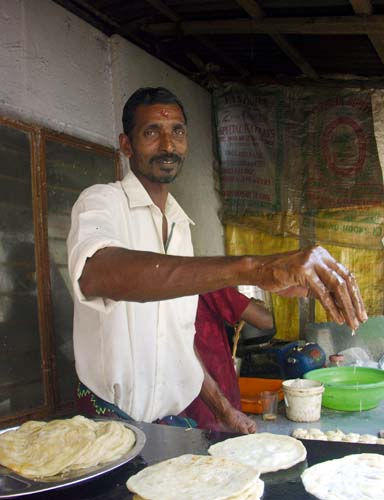 Here is a local man enjoying his breakfast inside.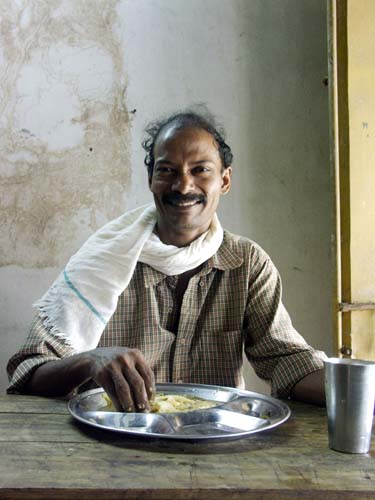 It is very good, but a little oily.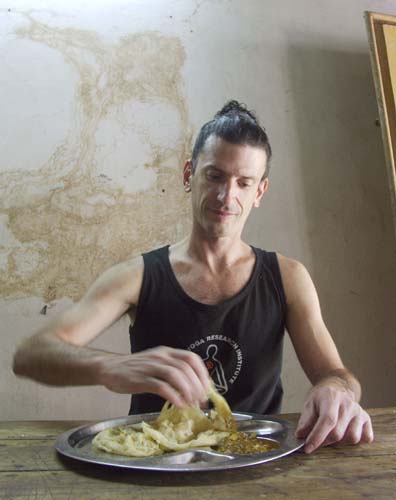 The cost of a breakfast for two (myself and Mikko), consisting of two plates of parathas with sambar and one chai for Mikko, was 21 rupees (about 50 yen)
I was suprised at how spicy the sambar was. This man, sitting next to me, laughed and said: "India food spicy, but Kerala food BIG spicy!".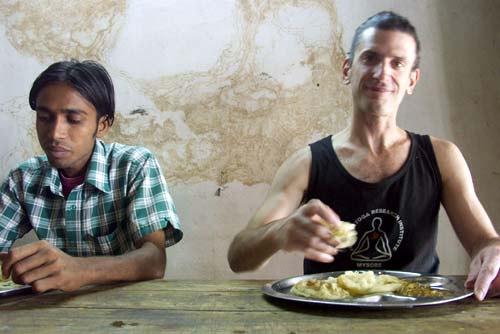 Mikko was very enthusiastic about the food, and equally enthusiastic about his supplements!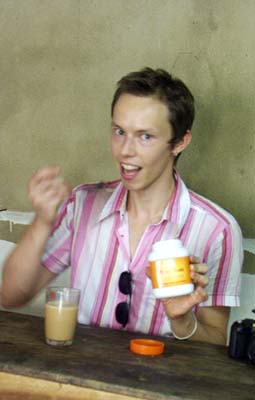 Another alternative for breakfast was a seaside fruit salad, there are several women who make a living by preparing them. I had one made by this lady.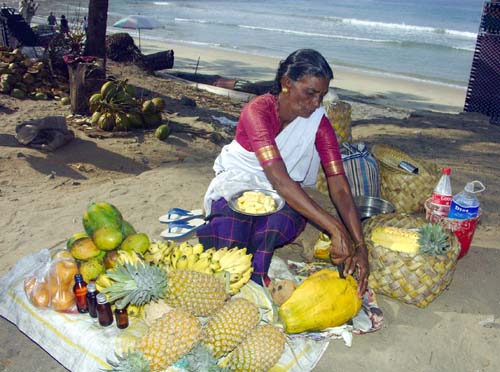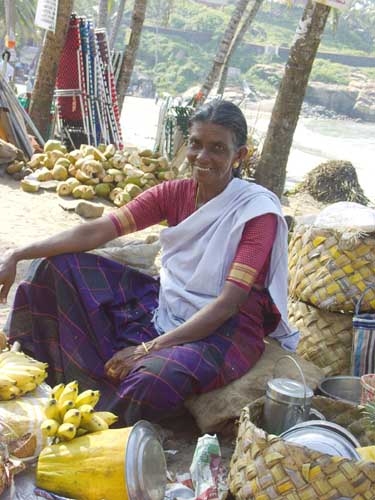 It tasted very good!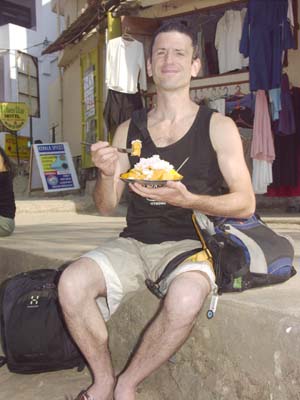 There are also several more expensive retaurants right by the seaside which are visited mainly by tourists; the local people cannot afford them, even though they are cheap by Japanese, US or European standards; a very good breakfast will cost about 100 rupees (about 250 yen).
For the first few days, we often hung out by the German Bakery, which has very good Indian and European food, and excellent cakes, and a fabulous view of the Arabian Sea.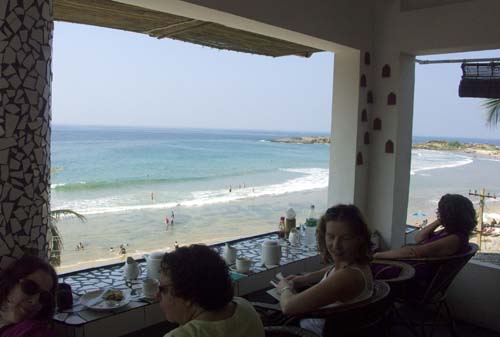 This wall, with its ventailation holes, made an interesting background for a photo.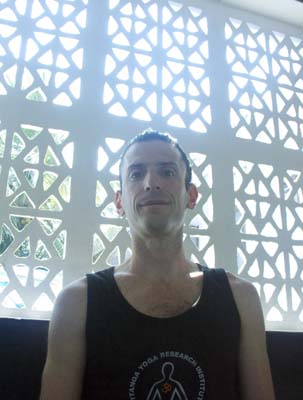 Unforturnately, both Mikko and I had problems with being overcharged at the German Bakery, and the staff were not too cooperative about fixing the mistakes, so towards the end of our stay, we stopping going there, and hung out at Swiss Cafe, which had excellent Indian and western food and cakes, or Suprabatham or Lonely Planet for Kerela style food.
How about Ashtanga practice? One of the reasons for coming to Kovalam, in addition to the sunshine, ocean, and good food, is that Lino Miele, a very senior Ashtanga teacher, is currently doing a workshop here. Lino is an excellent teacher, and like Sharath, has the ability to keep track of a large number of students at once and remember what everyone's levels and problem poses are. He teaching style is a mixture of strictness and good humor; he likes to challenge students to go beyond what we usually do, and make us work hard, but he is always cheerful and careful.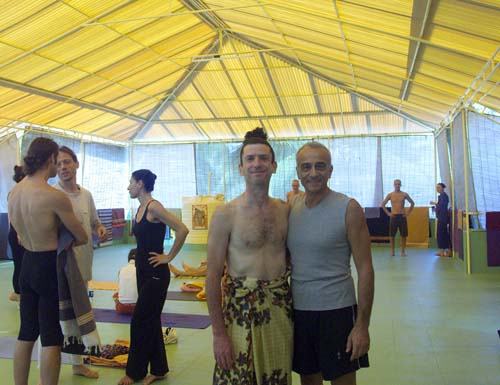 I respect Lino a lot as a teacher. Like Sharath and Guruji, he does not try to make asana practice too intellectual, philosophical or theoretical; instead, he emphasizes the flow of the practice. Just this morning, when I was having trouble with Mayurasana, he told me: "Daniel, you have to stop thinking about the pose, and just DO the pose!" This is my third time to study with Lino, the fist was in April of 2003 in Helsinki, and the second was in July of 2004 in Houskar, Finland, and every time we meet he seems to remember my practice quite well.
I hope that by practicing under such good teachers, I will become a better teacher myself!