Wednesday, Nov. 16
A Birthday and a Moon Day
Today was the first day of practice at the shala after a 4 day break. Practice felt good and light; I started to work on second series and got as far as supta vajrasana. Sharath and Guruji both appeared to be very happy and enthusiastic despite their 6 hour trips to and from Mangalore, where Guruji was a special guest for the inauguration of a Yoga research center at the University.
I ended up staying in Mysore for the 4 day break. I had considered traveling to Kovalam beach or Bandipur natonal park, but having just arrived in Mysore, it seemed better to take it easy and get some rest.
Although the shala was closed on Sunday and Monday for Guruji's trip to Mangalore, these were not rest days, I practiced at home before breakfast. During practice, the early morning sunlight coming through my living room windows made beautiful patterns.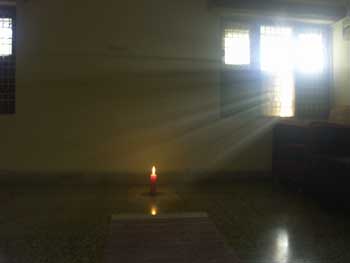 Two things stood over the long break: a friend's birthday and the moon day.
A Birthday
On Monday, several people from Japan helped Yasuko celebrate her birthday by starting off the day with an ayurvedic massage at the very luxurious Indus Valley Ayurvedic Center... her birthday was a good excuse to pamper ourselves! The center is about 20 minutes from downtown Mysore, in a very quiet and scenic area, the motorbike ride there was pleasant. The staff were very professional; two masseurs gave me a "synchronous" full body massage, meaning that one did the right side at the same time as the other did the left. Their synchronization of timing and pressure was almost perfect-when I thought about this later, I was very impressed, but during the massage I was too relaxed to notice! The massasge was followed by shiodara, pouring a fine stream of warm oil on the forehead, it felt wonderful, and left me even more realxed. Then came a steam bath, and a shower using herbal preparations instead of soap and shampoo. I left feeling refreshed, relaxed, and satisfied.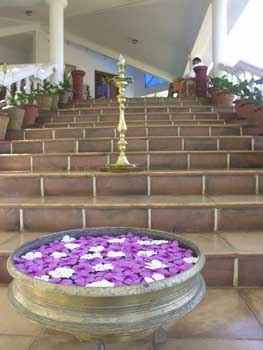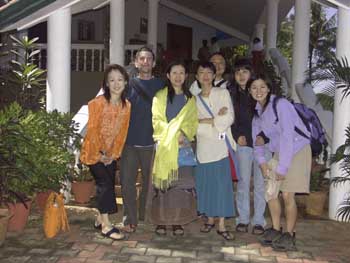 That night, we had a birthday party for Yasuko, which included chocolate cake and apple pie from the Southern Star Hotel, and lots of good conversation and laughter. Overall, it was one of the most fun and full days I've had in Mysore.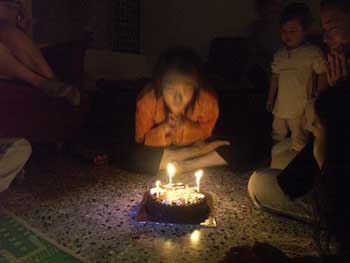 A Moon Day
Tuesday was a full moon day, there was a splendid veiw of the full moon, and most of Mysore, from the roof of Ayuco and Yasuko's house.
The sky was mostly clear, and the light from the full moon was surprisingly bright. There was a cool breeze blowing. Yasuko sang songs about the moon, and her beautiful singing took the chill out of the evening air.