Rock Concert
Last Friday, there was a concert. The performers were all yogis; it was inspiring to see so much talent among the people around us in practice every morning.
The concert was at the Kev-in; a hotel and restaurant run by Kevin, a very dedicated yogi who has been in Mysore for a long time. Kevin organized the concert to raise funds for Project P, a charity he started to help one needy family in Mysore. The concert was free, but donations were collected; I don't know the exact numbers, but I heard that the fundraising went very well.
The first performer was Kevin himself; he played 3 songs written during his university days. In addition to being a dedicated yogi and good hotel manager, he turned out to be a very talented musician!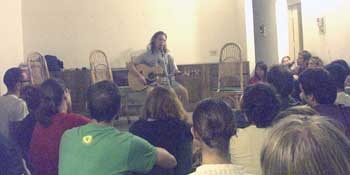 Next up was Mark; sorry but I didn't get a photo. Mark was followed by Luke, who played a very funny original song about about yoga.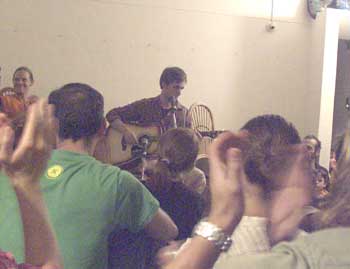 Afsheen was next; he played songs written by himself and others.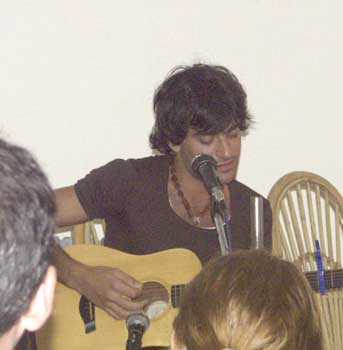 Then, Trina performed; her second song was an original which she performed in Chinese. Of course, most of us didn't understand the words, but her silvery voice left us all enchanted.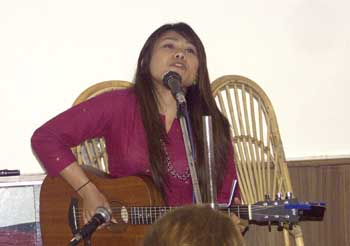 For the final number, Mark, Luke, Afsheen and Trina performed together; Afsheen switched from guitar to percussion; playing a large plastic water drum. There was another percussionist playing tabla, but I'm sorry to say that I didn't get his name.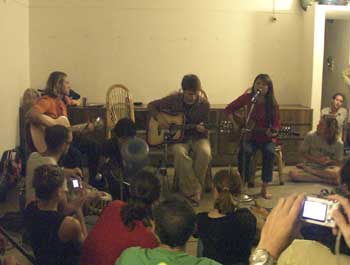 It was a perfect evening to relax, enjoy and also help a good charity; we all left feeling a little closer to samadi!