How I Spent Christmas - Kovalam Beach, Kerala, Part 1.
In Mysore, there were rumors that the shala would be closed for a few days around Christmas... unforturnately, there was no clear information about the exact dates... several people asked Guruji and we all got different answers, but it became clear that the shala would close for at least 3 days right after Christmas, so I made plans to head out to Kovalam Beach, Kerala with a few friends.
The first problem was how to get there. Travel in India can be slow and tiring. The planes were all full with people returning home for new year, and we had no luck getting a train reservation either, so we ended up renting a car with a driver for one week to take us there and back. Fortunately, prices in India are quite reasonable, the total cost of the car and driver for one week was about 12,000 rupees (about 30,000 yen, or 280 US dollars); dividing this by the 5 people in our group was not so bad.
On Sunday morning, Christmas Day, after Guruji's led class, we boarded the car. Our driver was Chendru, the same person who took us to Talakadhu and Somnathpur. He arrived a few minutes late, but we were soon underway. Our vehicle was a large 4 wheel drive Tata "Sumo", quite comfortable.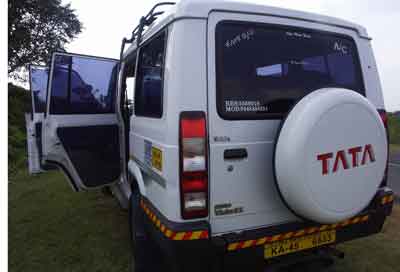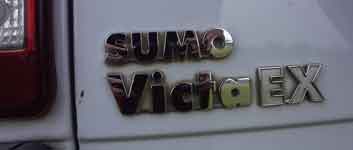 It was generally in good shape, but some of the rear lights needed work-Mikko doesn't look too worried, so it's probably OK!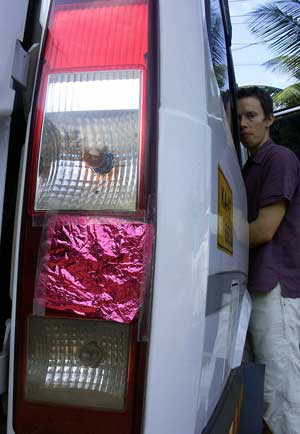 We all fit in quite comfortably.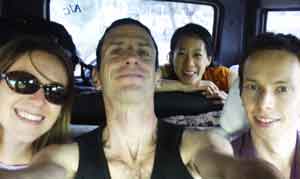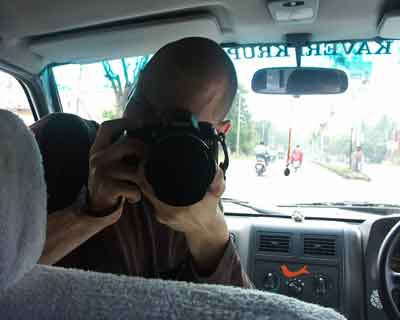 Driving in India can be scary... actually quite terrifying at times, but our driver was generally very safe and did an excellent job. We did have a good scare when we were overtaking a large truck labeled "Highly Inflammable"; another truck suddenly appeared around a turn but we just missed it, otherwise "Highly Inflammable" might have been the last thing we ever saw!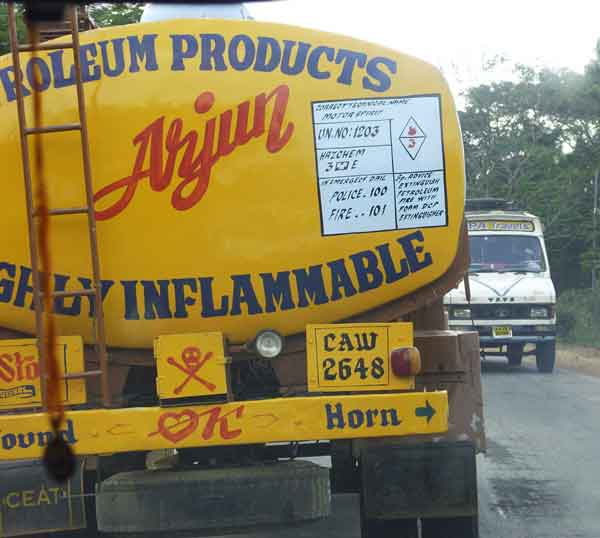 At one point we passed a group of people walking along the road with what looked like pillows tied to their heads. Chendru explained that they were pilgrims on the way to a nearby temple dedicated to the god brother of Ganesh, and the pillows were actually offerings of honey and coconuts wrapped in towels.

Soon we were driving through the hills in Bandipur National Park, where there are a variety of wild animals including elephants and tigers. The air was very cool and pleasant, and there were large bamboo forests. We stopped for lunch here. Fortunately, no tigers! Just bamboo, tall trees, shade and fresh air...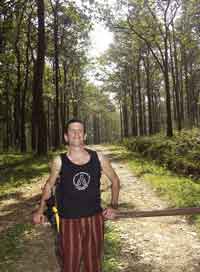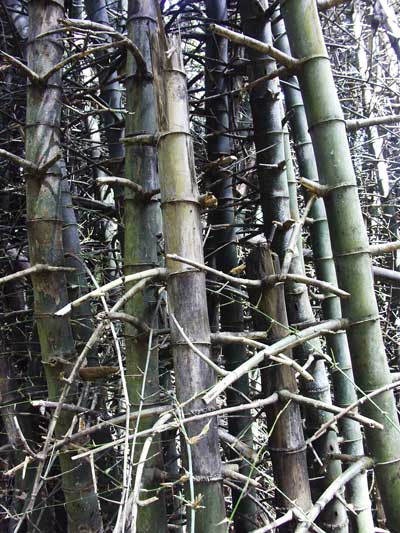 After lunch, before leaving the mountains and heading towards the flat costal areas of Kerala state, we had to pass through some scary mountain roads with lots of hairpin turns and some spectacularly steep drops; but everything went smoothly.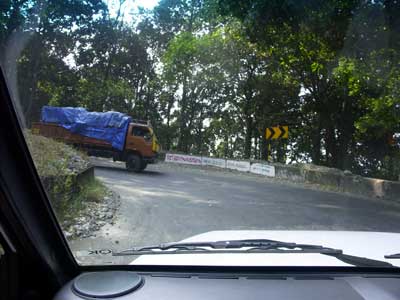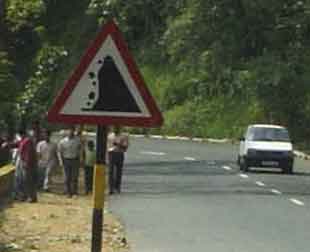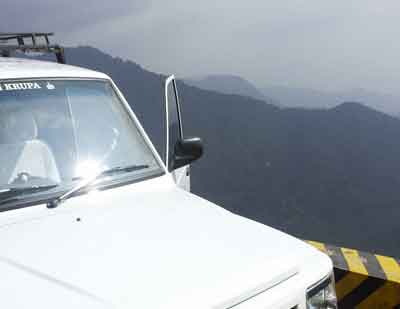 The above two photos were taken from here, see the red arrows: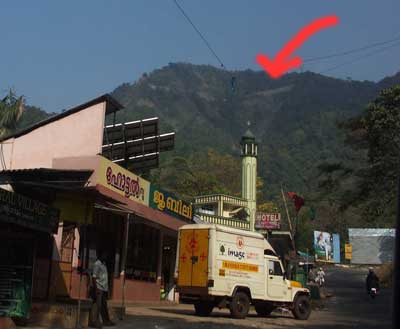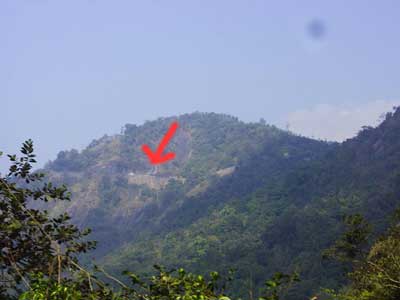 The only setback we had came at about 5:00, we decided to stop at Danu's Bakery for an ice cream. As we parked, one of the rear tires suddenly went completely flat. The flat was no match for our ever friendly and efficient driver, Mr. Chenru, who had replaced the flat with our spare before we even finished our break. Luckily, there was a tire repair shop just down the road, so we pulled in.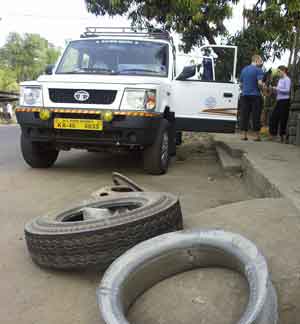 This man quickly went to work; removing our wheel, finding the leak, and patching the tube.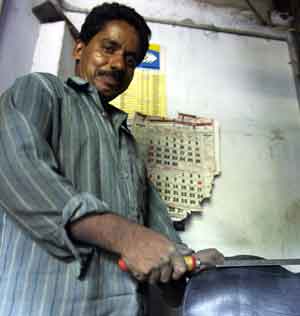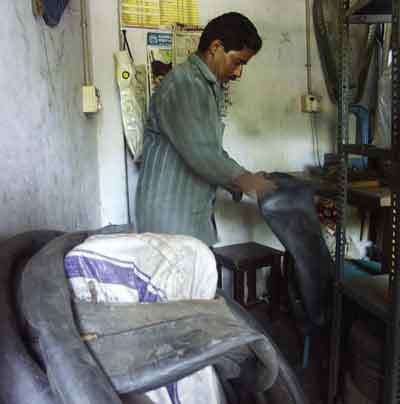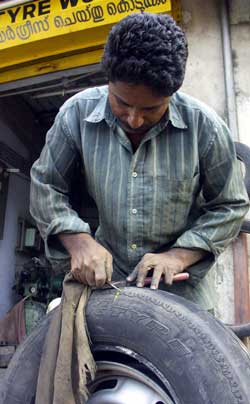 This nail caused our flat tire.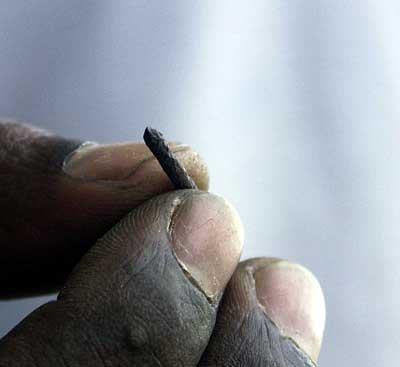 In the meantime, Antonia kept herself entertained.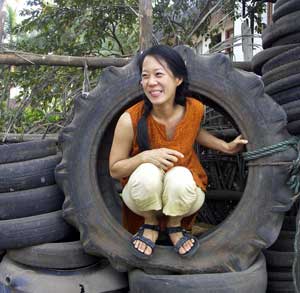 When the work on our tire was nearly done, a local man pulled in to have his scooter tire repaired.
No one knows why, but he suddenly decided to start demonstrating his Uddiyana Banda and Nauli to us.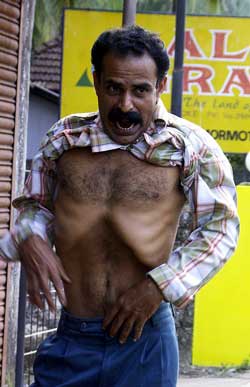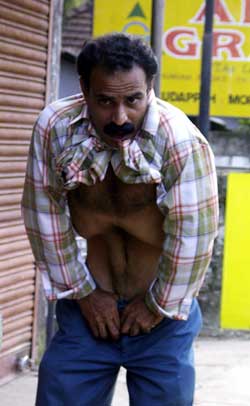 His nauli was quite impressive; in Yoga, nauli is usually done side to side, but he was doing it with and up and down motion.
I asked whether he practiced Yoga, but it was very difficult to communicate; as far as I could tell, he said what he practiced was not Yoga or Kalaripayat (a martial art from Kerala); he tried to explain what he practiced, but we could not understand him.
He tried to get Mikko V. to imitate him, but without much success; Mikko S. seemed unimpressed with Mikko V's efforts: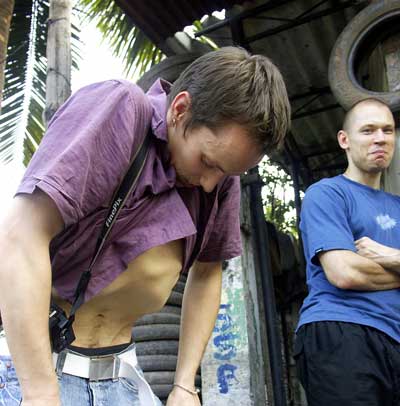 We set off again at about 5:00 pm with a repaired tire and a new appreciation of Nauli; but we were shocked to discover that after about 6 hours of travel, we had covered less than half the distance from Mysore to Kovalam.
Wait! The travel agent had told us that this would be a 9 or 10 hour trip! How could this be? Apparently, our travel agent calculated the time based only on the distance, but did not consider the relatively slow roads we had to use; our average speed was probably only about 30 km/h. We had no choice but to resign ourselves to many more hours in the car. Fortunately, our driver still seemed OK, so we went on.
By about 10:00 pm, a little past halfway there, we yogis were totally exhausted; we had been up since about 4:00 am for morning practice. Far more troubling was that our driver also seemed to be tiring: he said he was fine to continue all the way to Kovalam but we decided to stop at the first clean looking hotel. A gas station attendant told us about a good hotel about 20 km down the road, which turned out to be the "Prince Hotel". No, not the luxurious Japanese chain, but a local hotel which was quite nice, with A/C, running hot water etc. We were delighted! The mattress was the best I have used in several months, and we all got a good night's rest!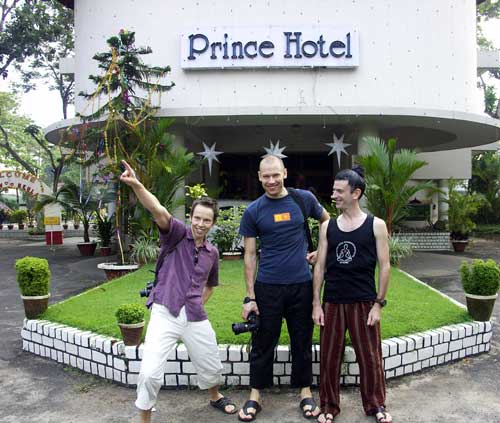 The next morning, Dec. 26, we left the Prince Hotel at about 7:00 and finally reached Kovalam Beach at about 1:00 pm. The trip was relatively easy, since the roads in Kerala state are definitely better than those in Karnataka.
At Kovalam beach, we checked into our rooms, and went straight to the shala for a light practice. After spening about 16 hours in a car, we were happy to be moving again! I intended to do a light practice, perhaps standing poses only, because I did not know how much my body could handle after that car ride, but before I knew it, I had done the entire primary series, and it felt good!
After practice, eating lunch at a restaurant with a great view of the ocean, it truly felt like we had finally reached our destination!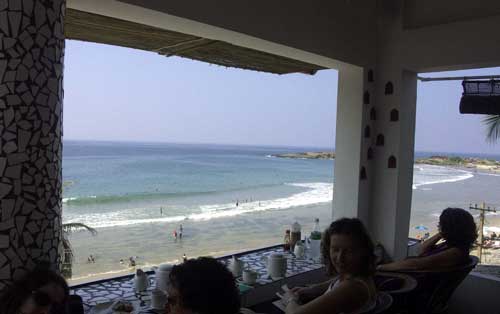 To be Continued